SCERA Youth Theatre's national award-winning high school company, Acting UP
Calling all teenagers in Grades 10-12 who are serious about performing!
Come be part of SCERA's national award-winning high school company, Acting Up, directed by Kathryn Laycock Little.
Acting UP is the premiere audition-only group in the SCERA Youth Theatre program. Acting UP requires a commitment from mid-August through mid-May and Auditions for the 2017-2018 season will be held on Saturday, May 13, 2017 from 8:00am-2:00pm.  There is a pre-audition meeting for interested auditioners and their parents on Saturday, April 29 @ 10:30am.

Performance opportunities abound, and students participate in the SCERA Youth Theatre Holiday and Spring Music Revue, present several Sunday musical firesides, perform an outreach musical at locations throughout the state, and are cast in their own full-scale musical production each spring. A musical theatre competition tour to California is also offered in February.  This year's team placed 1st and 2nd in the advanced division, competing against team from across the country!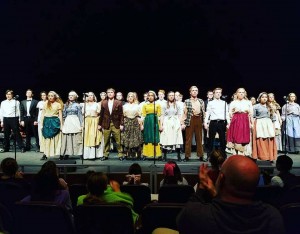 Rehearsals are held on Saturday mornings from 7:30-10:30am at SCERA Center for the Arts, with additional rehearsals scheduled as needed.
2017/2018 TUITION & FEES:  Tuition is $100 per month (if you sign up for AutoPay) from August through May with an additional $100 one-time production fee for the year. There are also additional costume fees and time commitments which are detailed in the Parent Pre-Audition Form, which must be signed before a teen can audition.