SCERA Youth Theatre's national award-winning high school company, Acting UP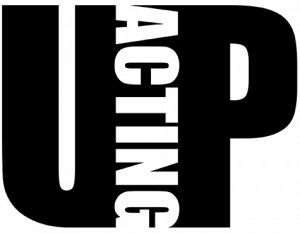 Calling all teenagers in Grades 10-12 who are serious about performing!
Come be part of SCERA's national award-winning high school company, Acting Up, directed by Kathryn Laycock Little.
Acting UP is the premiere audition-only group in the SCERA Youth Theatre program. Acting UP requires a commitment from August through May. Auditions for the 2020-2021 season will be held on Saturday, May 16, 2020 from 9:00am-4:00pm. Students should plan to stay the entire day. Depending on ever-changing state guidelines, we will adapt and meet all social distancing and gathering guidelines for auditions.

There is a pre-audition information meeting for parents on Saturday, May 2 @ 12:45pm.

Auditioners should prepare 16 bars of an upbeat Broadway song, 16 bars of a Broadway ballad, a 30-second monologue, and be prepared to learn a dance routine. Auditioners should wear nice casual for the vocal audition, and bring with them modest and comfortable clothing and shoes for dance. IPOD/MP3 playback will be available, but there will be no accompanist. Auditioners should bring snacks, lunch (or money for lunch) and a water bottle.
SUBMIT YOUR AUDITION FORM ONLINE! Auditioners can submit their audition form and download the Parent Pre-Audition Form all in one place. Click here for the form!
Performance opportunities abound, and students participate in the SCERA Youth Theatre Holiday and Spring Music Revue, present several Sunday musical firesides, perform an outreach musical at locations throughout the state, and are cast in their own full-scale musical production each spring. A musical theatre tour/competition to California (with Disneyland) is also offered. Acting Up usually places in the top tier in the advanced division for their medleys, competing against teams from across the country!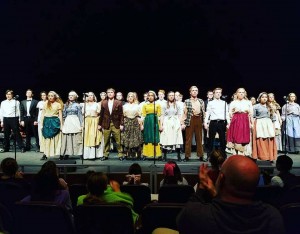 Rehearsals are held on Saturday mornings from 7:30-10:30am at SCERA Center for the Arts, with additional rehearsals scheduled as needed.
2020/2021 TUITION & FEES: Tuition is $1,000 for the year or $500/semester or $100/month August through May (if you sign up for AutoPay) with an additional $150 one-time production fee for the year. There are also additional clothing and tour fees and time commitments which are detailed in the Parent Pre-Audition Form, which must be signed before a teen can audition.
What has Acting UP meant to you? Thoughts from some graduating seniors:
 * AUP has been so wonderful – it's taught me how to love better, it taught me how to share my talents without a drop of fear, it has taught me teamwork and most importantly AUP has shown me the show must go on. I am a stronger, better person because of AUP!
* AU has provided a supportive space where I could grow in my musical talents and find kids with common interests. My best friends in high school have come from this group.
* AUP is basically my second family, it's really just fun and exciting and has helped me improve so much about myself and learn what I like and who I want to be.
* Acting Up is incredible. It has given me inside jokes, social skills, experience, but most of all it has given me another home. Each person has so much to contribute and I have loved being a part of this team. I really will miss it so much.
* Acting Up has become my home away from home. I love all the people there and I feel so loved and supported by everyone when I'm there. And even when I wasn't there I would feel just as supported if not more. Acting Up! has made my senior year so much better and I'm so grateful I was able to be a part of it. It will forever be a part of me.
* All my other friends have sports teams, but I have AU! It has always felt like my team, a place I can go to and feel like I belong. I contribute to the greater good of the team and I am around other hard workers. Being a part of AU gave me friends and has taught me so much.
* Acting Up has been a huge blessing in my life. I love everything that I have been able to accomplish and do. I love everyone and I appreciate all of the lessons I have learned because of them. I have been under so much stress for the last couple of years because of my schooling and if I didn't have acting up as a positive outlet for my passions, I think I would have gone crazy. Thank you for making my time amazing. I want to thank the directors for everything they have taught me and helped me with.
* Acting Up has taught me some incredible life lessons and given me experiences I will never forget.
* Acting Up has been the greatest decision, opportunity, and experience of my life! I have made lifelong friends I will cherish forever!
* For the last three years, Acting Up has been a safe place for me to grow and try new things. I have grown in my understanding of how to work hard as well as how to love unconditionally. I attribute this to the wonderful examples who lead the group. Above all, Acting Up is a family. And I will forever be grateful for the family I have met through this group.
* Acting Up has meant the world to me and more! It has helped shape me into the person I am today and has helped me find confidence and friendship in places I would never have dreamed of. I want to thank everyone in Acting Up for the wonderful experience they have given to me and the directors for the lessons they have taught me and love they have so freely given me.
* I've loved Acting Up because I've made so many friends and learned so much about my passion.
* Acting Up has been truly amazing because of how productive it has made me and given me a place where I truly feel accepted and part of an important group.
* Acting Up has meant the world to me, I have learned so much more than just how to perform on a stage. I have learned how to overcome fear, how to re-center myself and find what is most important, I've learned how to work with people, and have compassion, love, understanding, and respect. I am most grateful for the experiences I have been able to have talking to children, competing, and performing with some of the most amazing people I know. I'm going to miss it!