SCERA Youth Theatre's national award-winning high school company, Acting UP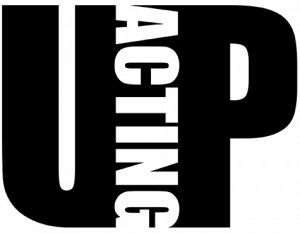 Calling all teenagers in Grades 10-12 who are serious about performing!
Come be part of SCERA Youth Theatre's premier, national award-winning, audition-only high school company, Acting UP. Directed by Kathryn Laycock Little.
Acting UP requires a commitment from August through May, during which time kids will be involved in monthly outreach shows, monthly spiritual firesides, a full-scale musical, and a national musical theatre competition based in California. Auditions for the 2023-2024 season will be held on SATURDAY, MAY 13, 2023 from 9:00am-4:00pm. Those auditioning should plan to stay the entire time.

PRE-AUDITION MEETING: We strongly encourage parents and kids to attend this meeting which is held one week before auditions on Saturday, May 6 @ 11am. This one-hour meeting is where you can learn more, ask questions, meet the staff, and see if Acting UP is the right fit for you and your family.
AUDITION DETAILS: Please prepare 16 bars of an upbeat Broadway-type song, 16 bars of a Broadway-type ballad, a 30-second monologue, and be prepared to learn a dance routine. Auditioners should wear modest and comfortable clothing and shoes for dance, and bring clothing to change into for the vocal audition. Music playback will be available. There will be no accompanist. Please have your music cued and ready to go. We highly recommend bringing snacks, lunch (or money for lunch) and a water bottle.
CLICK HERE TO SUBMIT YOUR AUDITION FORM ONLINE!
Performance opportunities and triple threat training are center stage, and students participate in music revues, present several Sunday musical firesides, perform an outreach musical at locations throughout the state, and are cast in their own full-scale musical production each spring that is performed as part of our Indoor Season at SCERA Center for the Arts. (Shown below is a little clip from AU's Spring 2023 production of Seussical The Musical.)
An optional musical theatre tour/competition to California (with Disneyland) is also offered in February 2024. Acting UP usually places in the top tier in the advanced division for their medleys, competing against teams from across the country!
Rehearsals are held on Saturday mornings from 7:30-10:30am at SCERA Center for the Arts, with additional rehearsals scheduled as needed.
2023/2024 TUITION & FEES: Tuition is $1,000 for the year or $500/semester or $100/month August through May with an additional $200 one-time production fee for the year. There are also additional time commitments, clothing and tour fees which are detailed HERE, and will also be presented and discussed at the Pre-Audition Meeting on Saturday, May 6 @ 11am.
If you have any questions, please email [email protected].