SCERA announces May 17-18 auditions for THE SOUND OF MUSIC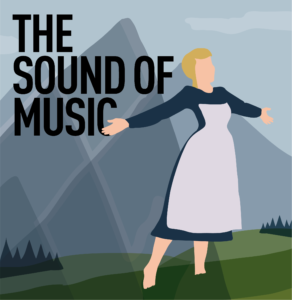 OFFICIAL FACEBOOK EVENT FOR AUDITIONS
The final show of our 2022 outdoor season at SCERA Shell Outdoor Theatre is "The Sound of Music" which will play July 29-August 13, 2022 on Mondays, Tuesdays, Thursdays, Fridays and Saturdays at 8:00pm. It will be directed by Allison Books, with music direction by Andrew Walsh, and choreography by Kaitlyn Powell.
Auditions for the Von Trapp children are ages 7-17 and all other roles are age 17 through older adults. Auditions will be held on Tuesday, May 17 or Wednesday, May 18 from 7-9pm. Auditioners should prepare 16 bars of a song in the style of the show. An accompanist or aux cord is available – please bring your music and have it cued or marked. Please, no CD's. Callbacks, for those invited, will be held Saturday, May 21, and will include a dance/movement section. All roles are available.
Rehearsals will begin on May 23, and generally be held Monday-Friday evenings and some Saturdays. No rehearsal on Memorial Day or July 4th. A more detailed schedule will be provided once casting is final.
IN PERSON AUDITIONS ARE NOW FULL, BUT YOU CAN STILL SEND IN A VIDEO AUDITION THROUGH CASTING MANAGER. (Click on the role you would like to audition for and click on the Video Submission box where it will give you a place for your YouTube link.) If this is your first time using Casting Manager, you will be asked to create an account, and upload a resume and headshot if you have them. If you don't have a resume or headshot, there is space where you can add in your education, training, experience, shows, etc. However, if you are new to theatre and the audition process, don't be intimidated…we welcome talented first-timers! If you are more comfortable, you can also submit a video audition in Casting Manager.
ABOUT THE SHOW: The final collaboration between Rodgers & Hammerstein was destined to become the world's most beloved musical. Featuring cherished songs including "Climb Ev'ry Mountain," "My Favorite Things," "Do Re Mi," "Sixteen Going on Seventeen" and the title number, The Sound of Music earned five Tony Awards and the hearts of audiences worldwide. The inspirational story, based on the memoir of Maria Augusta Trapp, follows an exuberant postulate who serves as governess to the seven children of the commanding Captain von Trapp, bringing music and joy to the household. But as the forces of Nazism take hold of Austria, Maria and the entire von Trapp family must make a decision that affects their entire life.