AUDITIONS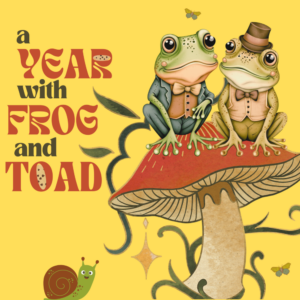 SCERA's Indoor Season announces auditions for its Spring 2024 Theatre for Young Audiences musical "A Year with Frog and Toad." It will be directed/music directed by Kelsey Mariner Thompson and Choreographed by Rebecca Boberg. Danielle Berry will serve as stage manager.
"A Year With Frog and Toad" will play at SCERA Center for the Arts JANUARY 29 – FEBRUARY 16, 2024 with 10:00 am matinees Monday through Friday for school groups and 7:00 pm shows for the general public on Monday and Friday evenings.
The one-hour musical features 5 featured roles with an expandable ensemble with featured solos and lines, and is cast with all adult actors, although those 16 and older are encouraged to audition if their schedule permits. Auditions will be held on Monday, November 20 between 6:00- 8:00pm at SCERA Center for the Arts, 745 South State, Orem.
Auditioners should prepare 16 bars of an upbeat/fun song or a song from the show. An aux cord is available, no accompanist will be available. Please have your music cued or marked. Cast members must be available for morning weekday rehearsals 10:00am-12:00noon and for all fifteen weekday morning matinees and all six evening performances. Rehearsals will run December 4-15, 2023 and then break until January 2, 2024. A more detailed schedule will be provided once casting is final.
You can register and sign up for an audition time at this Casting Manager link: http://castingmanager.com/audition/info/60BLIzqHgUWz7jw.  If this is your first time using Casting Manager, you will be asked to create an account, and upload a resume and headshot if you have them. If you don't have a resume or headshot, there is space where you can add in your education, training, experience, shows, etc. However, if you are new to performing and the audition process, don't be intimidated…we welcome talented first-timers! If you are more comfortable, you can also submit a video audition in Casting Manager.