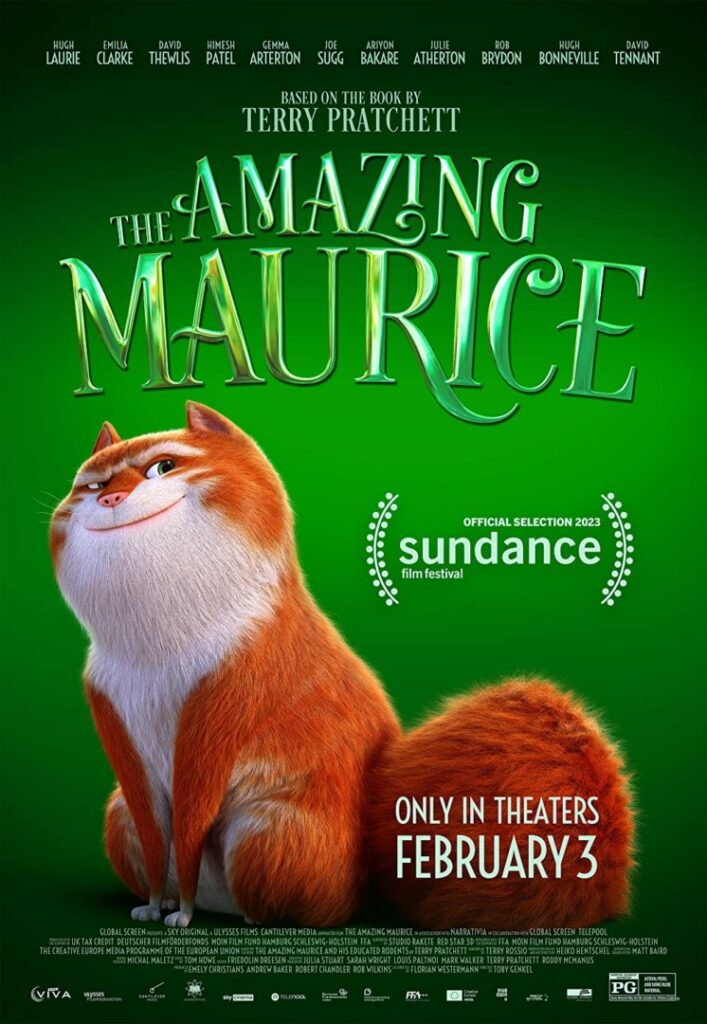 View the Trailer
Ticket Purchasing Options
IN PERSON:
Open 10am-6pm weekdays & Saturdays from 12pm - 6pm.
Tickets can also be purchased at the box office 30 minutes prior to each showtime.
Description
Based on the book by Terry Pratchett, this incredible animated film is an official selection of the 2023 Sundance Film Festival! Maurice is a sassy, street-smart cat with a sneaky disposition. Together with his band of rats and pied-piper friend Keith, he travels across the countryside, swindling villagers with a staged rat plague. All seems well when the gang sets its sights on a scenic market town, though they quickly realize that something more nefarious is afoot. The town is already plagued by food-snatching rats, a pair of criminals, and a mysterious boss at the heart of the trouble.
Joining forces with resident narrator and mayor's daughter Malicia, Maurice and his friends investigate trouble, fight daring battles, and discover the truth of the town's unfortunate events. A love letter to fables and the art of storytelling, The Amazing Maurice is funny, clever, and always unexpected. Featuring the voices of Emilia Clarke and Hugh Laurie, this flipped-on-its-head fairy tale is one of a kind, pure fun for all audiences.
SHOWTIMES
Monday-Friday
3:45pm, 6:45pm, 9:00pm
Saturday
1:20pm, 3:45pm, 6:45pm, 9:00pm
MOVIE ADMISSION
Prices:
$7.50 Adult
$5.50 Child (ages 3-11)
$5.50 Senior (ages 65+)
$5.00 Matinees before 6pm
$4.50 Discount Tuesdays


SCERA Center 745 South State Orem, UT 84058