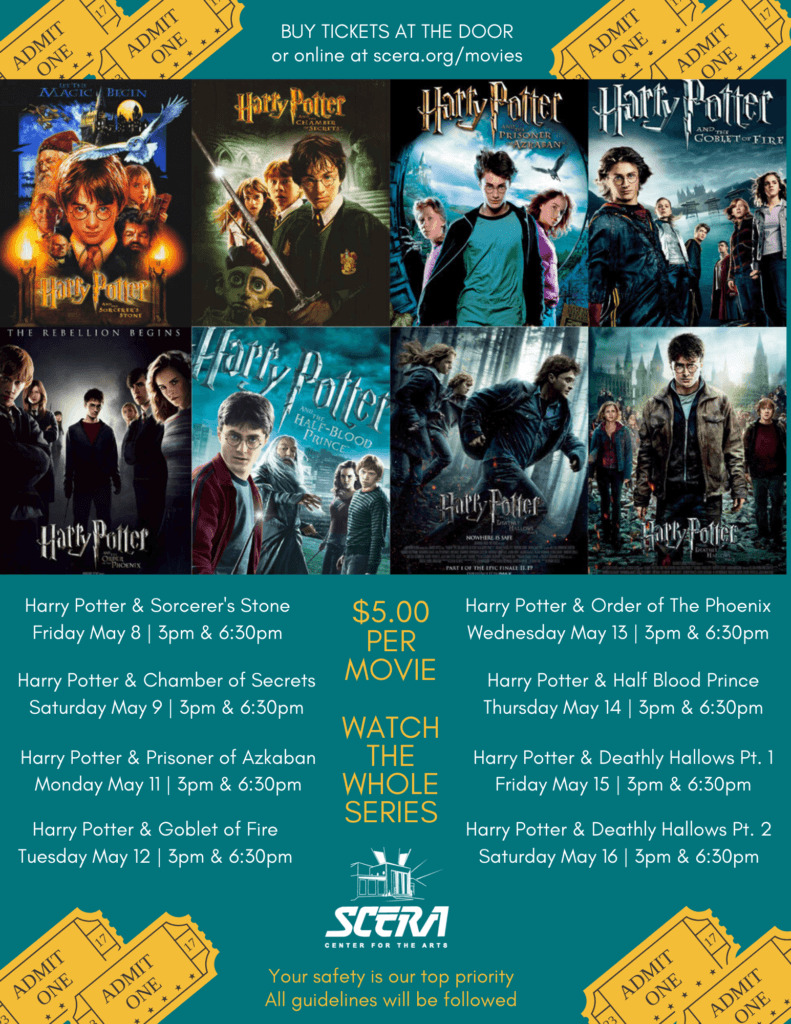 View the Trailer
---
Description
As COVID-19 restrictions are beginning to be lifted a bit, we are thrilled to announce that we are going to begin showing movies in the Clarke Grand Theatre, starting with all eight movies in the Harry Potter Series. We have made special arrangement to show one of the highest grossing films of all time, with one movie in the Harry Potter Series per day for eight days – all in order of course! How incredible will that be to see those blockbusters on our huge screen in digital projection and sound?
SORCERER'S STONE: Rated PG, 152 minutes | CHAMBER OF SECRETS: Rated PG, 161 minutes | PRISONER OF AZKABAN: Rated PG, 142 minutes | GOBLET OF FIRE: Rated PG-13, 157 minutes | ORDER OF THE PHOENIX: Rated PG-13, 138 minutes | HALF BLOOD PRINCE: Rated PG, 153 miinutes | DEATHLY HALLOWS PART 1: Rated PG-13, 146 minutes | DEATHLY HALLOWS PART 2: Rated PG-13, 130 minutes
DISTANCING & SAFETY: Your safety and comfort is our top priority during this unprecedented time. With 733 seats, we have the largest theatre in the valley, so there is plenty of room for you to spread out and social distance. We are reducing capacity, blocking off every other row, cleaning and sanitizing between showings, providing hand sanitizer stations in the lobby, and staff and volunteers will wear masks and gloves. We strongly encourage you to wear masks per the governor's directive. We've cared for our guests for 86 years, and that hasn't changed!
SHOWTIMES
THIS FILM IS NO LONGER BEING SHOWN