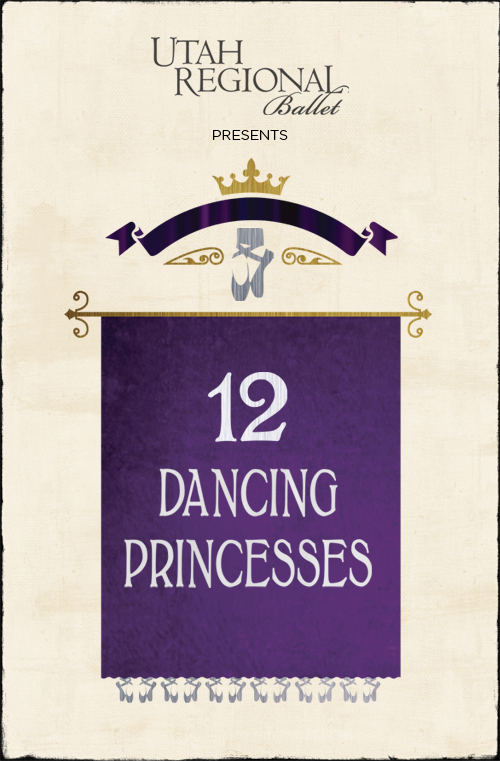 Utah Regional Ballet presents "12 Dancing Princesses"
May 11 - May 13, 2017
The prestigious Jacqueline's School of Ballet and the Utah Regional Ballet present their annual "Once Upon A Time" series.
Ticket Purchasing Options
PHONE/IN PERSON:
801.225.ARTS
Open 10am-6pm weekdays & Saturdays from 12pm - 6pm.
Seating Map >>
Description
Part of the Utah Regional Ballet's annual "Once Upon A Time" series. Magic, Mischief and Mystery come to life through the enchanted dancing of Utah Regional Ballet. 12 Dancing Princesses is a new full length ballet choreographed by Jacqueline Colledge.  Jacqueline's School of Ballet joins the company for a production the whole family will love!
ADD-ON EVENT!  After the 2pm matinee performance of 12 Dancing Princesses, join us for a Princess Tea Party, where your child can come up on stage, meet a princess, take a picture and get a special Princess Gift Bag. This add-on event is $10 per child for ages 2 and older.
Times:
Thursday, Friday & Saturday @ 7:30pm *
Saturday matinee @ 2:00pm
PRINCESS TEA PARTY: Saturday, May 13 @ 3:30pm after the matinee performance - $10 (ages 2+) - does not include ticket to ballet performance

Prices:
Ages 3 to Adult: - $12