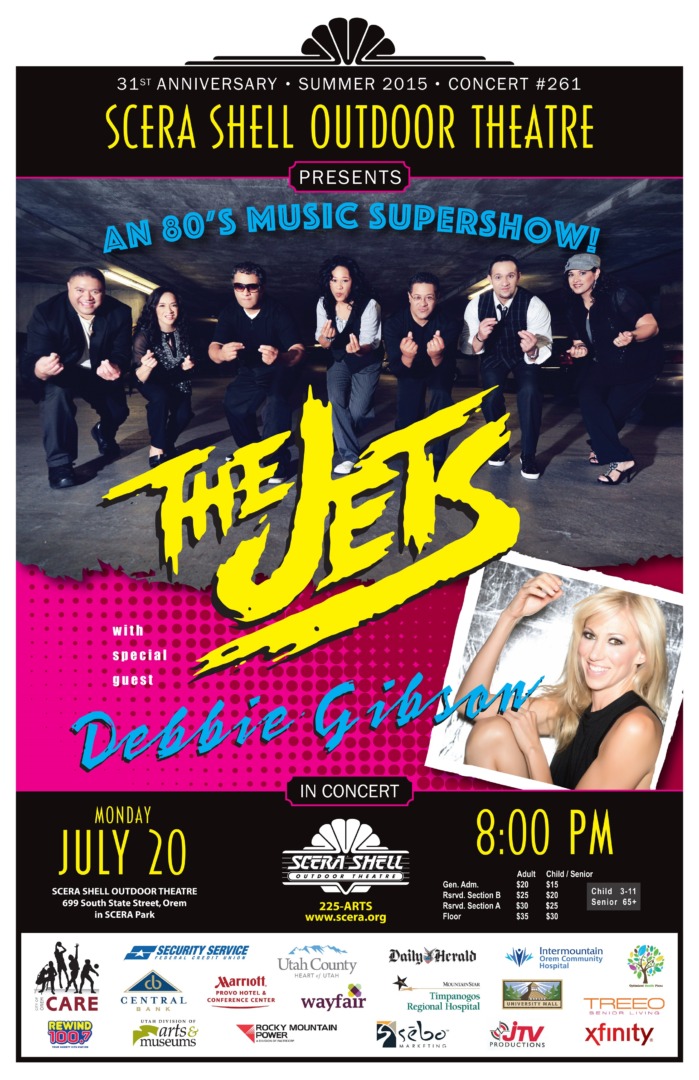 UTAH CELEBRATES THE 80'S: The Jets with special guest Debbie Gibson
It's an 80's music supershow with two of the decade's biggest stars!
Description
THE JETS
Discovered in Minneapolis in the mid 1980's, this Grammy-nominated group of brothers and sisters hit the music scene as teenagers and soared straight to the top with pop hits like Crush On You, You Got It All, Make It Real and Rocket 2 U that still get radio play years later. Originally from the island kingdom of Tonga in the South Pacific, The Jets are a vocally-tight family with huge international appeal, including a performance at the Seoul, Korea Olympics, three world tours and two USO tours to Asia and Europe. With eight Billboard Top Ten songs, The Jets are platinum selling pop and R&B sensations who are celebrating their 30th Anniversary as consummate live entertainers.
DEBBIE GIBSON
For more than 25 years, pop icon and Broadway star Debbie Gibson has proven she's a charismatic entertainer of immeasurable talent. From singer, songwriter and musician to actress and dancer, this music prodigy exploded on the Billboard Pop Charts at age 16 and became the youngest artist ever to write, produce and perform a No. 1 hit song, Foolish Beat. Gibson, the original pop princess, has sold more than 16 million albums worldwide, and completed three world tours highlighting her huge 80's hits including Electric Youth, Lost In Your Eyes, Shake Your Love, Only In My Dreams and more. So then set her sights on live theatre, starring in 17 musicals in 17 years. Gibson made her mark in the Broadway production of "Les Misérables" as Eponine. She broke box office records in the London West End production of "Grease" as Sandy. She then took the stage in the U.S. Broadway tours of "Grease" as Rizzo and "Funny Girl" as Fanny Brice. Gibson also wowed critics as Belle in Disney's "Beauty and the Beast," Gypsy Rose Lee in "Gypsy," The Narrator in the national tour of "Joseph and the Amazing Technicolor Dreamcoat," Cinderella in the national production of "Cinderella," Velma Kelly in "Chicago," and Sally Bowles in the Broadway revival of "Cabaret" with Neil Patrick Harris. Continuing to dazzle with entertainment magic, Gibson had a sold out run at Harrah's Atlantic City with her critically acclaimed one-woman show "Pop Goes Broadway."
Times
THIS EVENT HAS PASSED