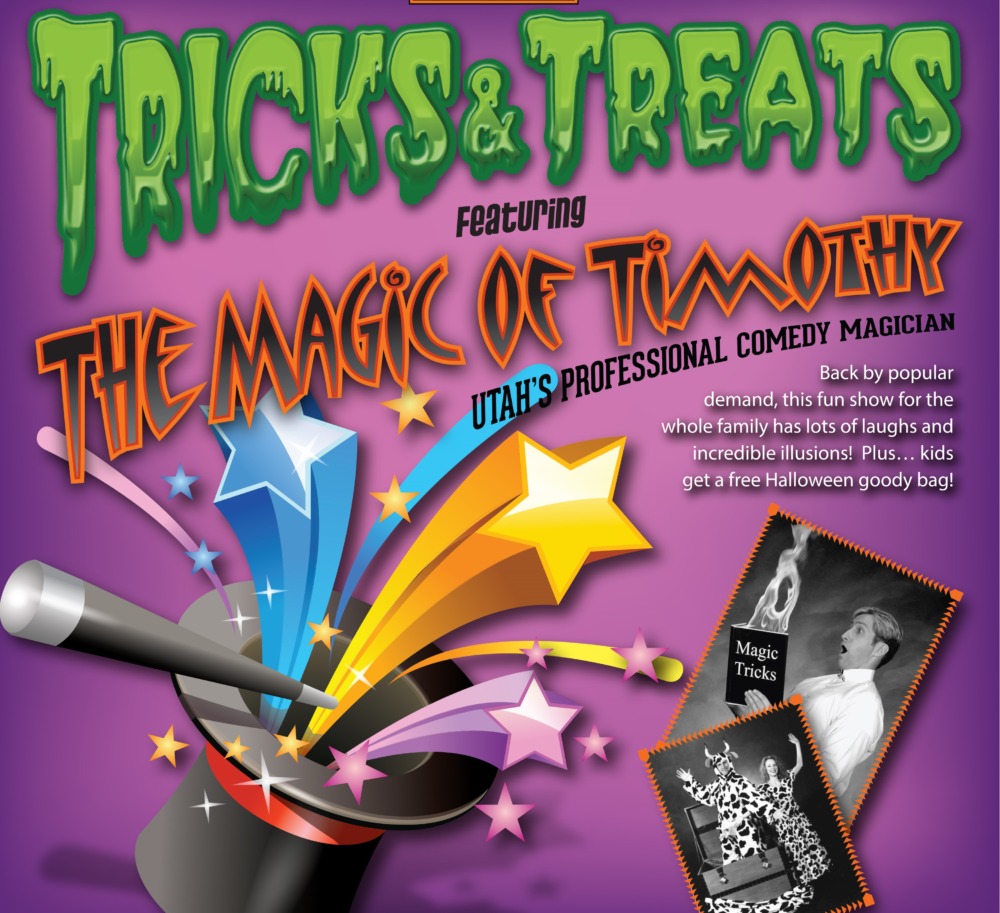 TRICKS & TREATS featuring The Magic of Timothy
Utah's professional comedy magician is perfect family Halloween fun.
Description
It's the season for tricks and treats, and this event has both as Utah's own professional comedy magician Timothy Riggs is back for his popular annual show.
Riggs has performed in amusement parks, fairs, stadiums, parties, night clubs and magic conventions. He created a full-length stage show while attending Snow College, and even as a missionary for The Church of Jesus Christ of Latter-day Saints, Riggs performed magic shows for community service. Among his service has been entertaining as a magician at the University of Utah's children's hospital. He created a magic instructional video, "You are the Magic, designed to inspire self-esteem in children by teaching them magic tricks. It has been placed in dozens of children's hospitals in the United States and Canada.
During the past 20+ years, Riggs has appeared on ABC, NBC and FOX television networks and performed in more than 3,000 stage shows. He was the magician for the Utah Fun Dome for five years, was a magician at Lagoon and is in his ninth year performing at Hollywood Connections in West Valley.
Timothy has many larger illusions, but he does them with a well-rehearsed funny bone. For instance, when he performs Houdini's famous escape trunk, he does it with a western theme and ends up dressed like a cow. Or when he cuts a lady in pieces, he dresses up like a mad scientist.
Timothy is also an accomplished juggler, and throws into the air a strange array of objects including bowling balls, fire torches and sharp objects. He is also well known for involving the audience, and will even levitate a brave volunteer.
Timothy has a light-hearted touch and comic manner that is really appealing. His is a magic show that is unique and appropriate for family audiences. Sharing the spotlight is Mandy Vanorden, Rigg's assistant, who has performed with him for twelve years and is a real cut up as she regularly undergoes being sawed in half.
Times
THIS EVENT HAS PASSED