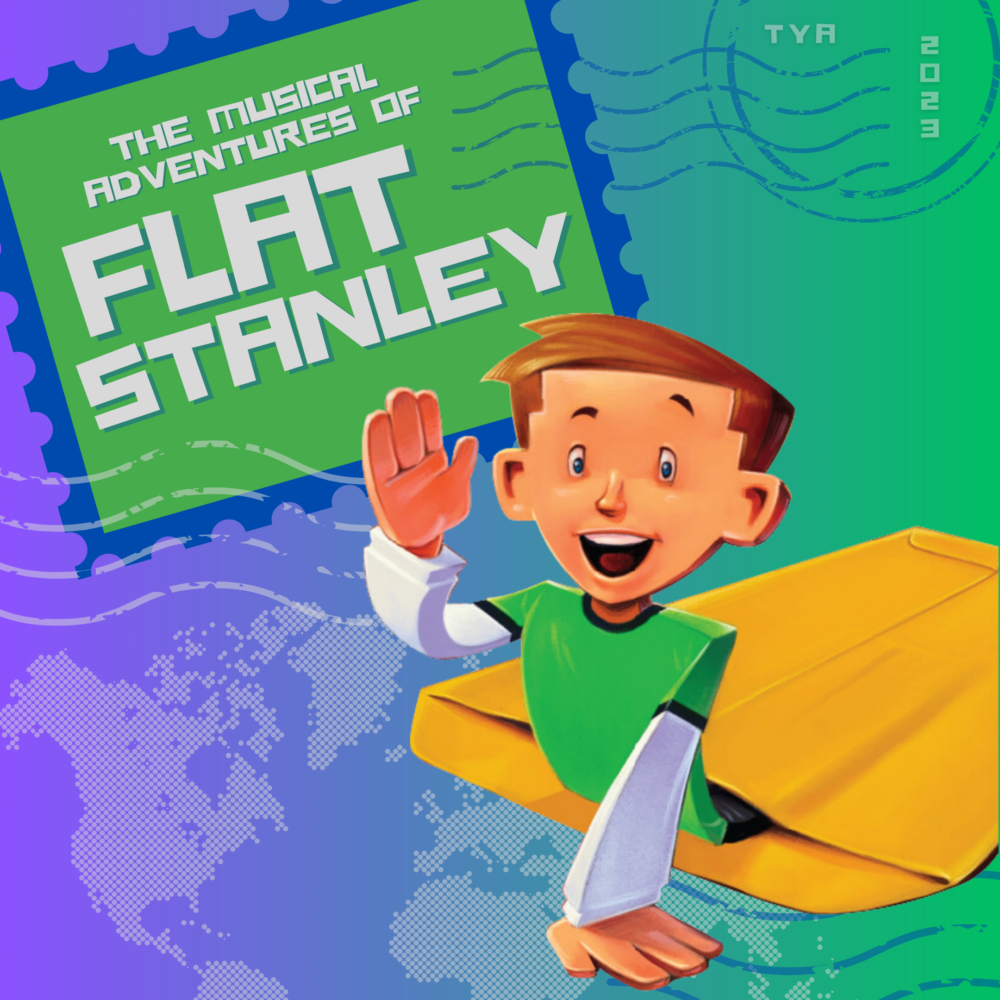 THE MUSICAL ADVENTURES OF FLAT STANLEY
October 16 - November 03, 2023
A one hour musical perfect for families with children!
Ticket Purchasing Options
PHONE/IN PERSON:
801.225.ARTS
Open 10am-6pm weekdays & Saturdays from 12pm - 6pm.
Seating Map >>
Description
ABOUT THE SHOW: Based on the best-selling book series, Stanley folds his way around the world with his flat-tastic hijinks! The beloved children's book, written by Jeff Brown in 1964, has become a literary and pop cultural phenomenon. And now, Timothy Allen McDonald, the writer behind Willy Wonka and James and the Giant Peach, has taken everyone's favorite two-dimensional hero and given him a new life in The Musical Adventures of Flat Stanley. Stanley Lambchop is your ordinary, everyday, run-of-the-mill, ten-year-old: normal mom and dad, normal little brother, normal life. That's just the problem… for Stanley, life is too normal. He wants to travel the world, do something amazing, something no one's ever seen before. Careful what you wish for, Stanley! One night, the bulletin board on the wall above Stanley's bed comes loose and falls – right on top of Stanley! The next morning, Stanley Lambchop wakes up flat. Not just a little flat… really, REALLY flat! In a whirlwind musical travelogue, Stanley – the ultimate exchange student – scours the globe for a solution to his unusual problem. He's stamped, posted and cancelled from Hollywood and France to Honolulu and beyond. And, whether he's thwarting a robbery at the Louvre Museum in Paris, or "hanging ten" off the coast of Hawaii, Stanley is closing in on his goal of being a three-dimensional boy once more. 
SCERA's Theatre for Young Audiences presents one-hour musicals based on children's literature. The shows are performed by a cast of adult actors, and are the perfect way to introduce children to the magic of live theatre. And parents…with a witty script, charming characters and catchy music, you'll have a great time, too!
Times:
PUBLIC SHOWS: Mondays & Fridays @ 7:00pm

SCHOOL MATINEES: Monday-Friday @ 10:00am - Reservation details at the tab below

Prices:
DAYTIME SCHOOL MATINEES:  $3.00/person for ages 3 and older | Reservations required | Details at the tab below | Optional treat add-on for $1.00 includes small cup of popcorn and fruit juice box drink.
MONDAY & FRIDAY EVENING PUBLIC SHOWS: $8.00 Adult, $6.00 Child (age 3-11) / Senior (age 65+)