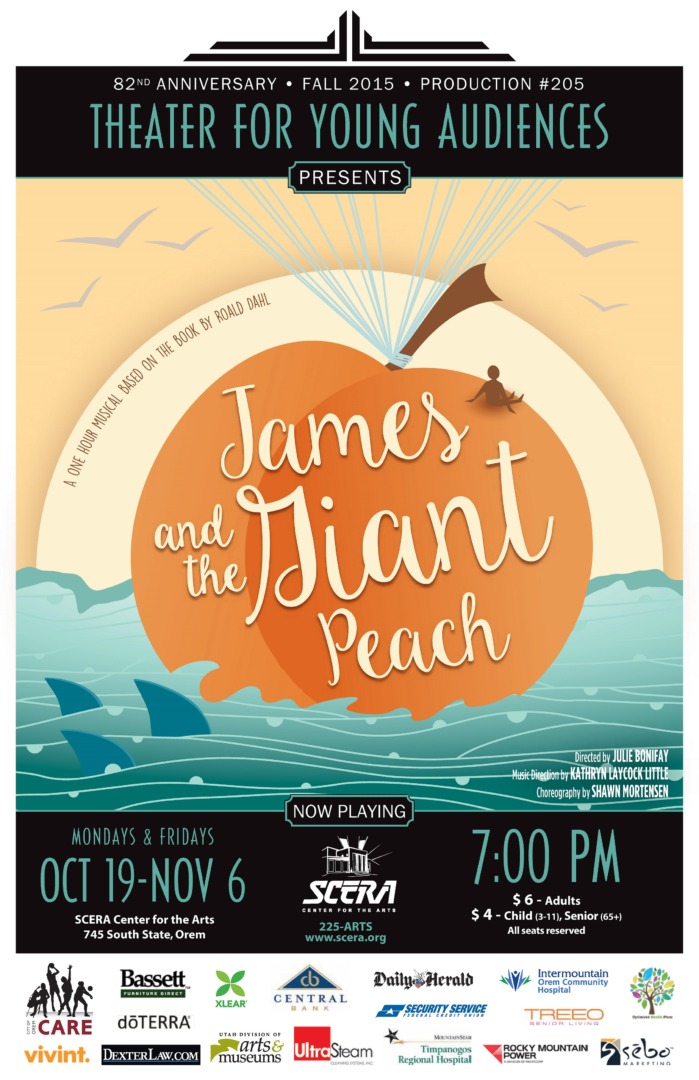 JAMES AND THE GIANT PEACH
A Theatre for Young Audiences musical
Description
MATINEE RESERVATIONS:  Click here for the online reservation request form for the 10:00am school matinees.  The form will be open to accept requests beginning Monday, September 21 @ 10am.  See the matinees tab at the bottom of this page for matinee policies and procedures. 
A delightfully offbeat adaptation of the classic Roald Dahl book, this show features a wickedly tuneful score and a curiously quirky script that have critics raving "it's a masterpeach!" When James is sent by his conniving aunts to chop down their old fruit tree, he discovers a magic potion and finds himself in the center of the gigantic peach among human-sized insects with equally oversized personalities. After the peach falls from the tree and rolls into the ocean, the group faces hunger, sharks and plenty of disagreements. Thanks to James' quick wit and creative thinking, the residents learn to live and work together as a family. The dangerous voyage is a success, but the enormous adventure takes a whole new twist once they land on the Empire State Building. Directed by Julie Bonifay. Music Direction by Kathryn Laycock Little.
SCERA's Theatre for Young Audiences presents one-hour musicals and plays based on children's literature. The shows are performed by a cast of adult actors, and are the perfect way to introduce children to the magic of live theatre. And parents…with a witty script, charming characters and catchy music, you'll have a great time, too!
Times
THIS EVENT HAS PASSED