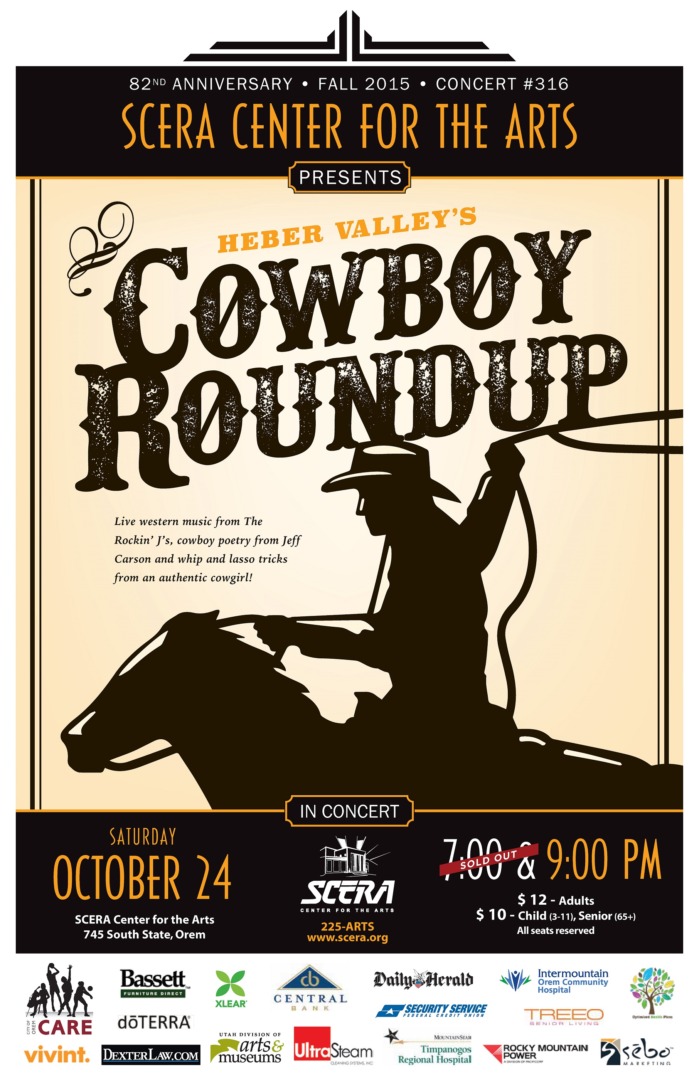 Heber Valley's COWBOY ROUNDUP
The official kickoff to the Heber Valley Western Music and Cowboy Poetry Gathering
Description
The official kickoff to the Heber Valley Western Music and Cowboy Poetry Gathering, SCERA will host a special Cowboy Roundup featuring live western music, cowboy poetry, plus gunslinging, whip and lasso tricks from some authentic cowboys and cowgirls!
MUSIC:  Our featured group will be The Rockin' J's, who play a variety of different styles including rock, western, country, blues, jazz, and others. This family band has blending harmonies that can only occur when blood relation is present! Each member brings a unique style that is complemented by the rest of the band no matter who takes the lead. The Rockin' J's involve the audience and put on a great performance!
COWBOY POETRY:  Our featured cowboy poet will be Jeff Carson, who has been writing and reciting cowboy poetry for the last fifteen years and has entertained audiences throughout the west. Jeff trains horses and mules and loves to ride and pack into the mountains surrounding the beautiful Heber Valley. Jeff has the uncanny ability to find humor in the cowboy way of life and put it to verse.
Times
THIS EVENT HAS PASSED