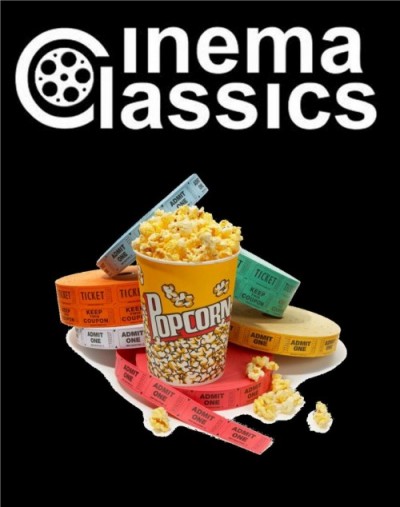 Cinema Classics Series
Description
Fall, Winter, Spring and Summer, SCERA is continuing our popular Cinema Classics Series featuring some of your favorite films spanning the decades!  The movies show in the remodeled XanGo Grand Theatre at the SCERA Center for the Arts, 745 South State, Orem.  Doors open @ 9:30am.  No advance tickets or reservations are required.  Senior Center groups are always welcome! A special concessions deal is available offering a Cinema Pack with popcorn, a small fountain drink and your choice of selected candy for just $2.00.  Click here to download and print the Summer 2014 Cinema Classics flyer – perfect to post on your fridge!
SUMMER 2014
June 6
Alfred Hitchcock's Dial M For Murder
Starring Ray Willand, Grace Kelly (1954), Rated PG, 105 min
British tennis pro (Milland) suspects that his wealthy wife (Kelly) is fooling around with handsome American (Robert Cummings).  Milland blackmails a former army comrade into murdering his wife.
June 13
Miss Potter
Starring Rene Zellweger, Ewan McGregor (2006), Rated PG, 92 min
A film about children's author Beatrix Potter.  She overcame a domineering mother to become a best-selling author.
June 20
Lilies of the Field
Starring Sidney Poitier, Lilia Skala (1963), Not Rated, 97 min
Sidney Poitier won an Oscar for his performance as Homer Smith, a jovial handyman who comes across a group of nuns in the Arizona desert.  The nuns persuade him, through whatever means necessary, to help them build a chapel.
June 27
Wreck of the Mary Deare 
Starring Gary Cooper, Charlton Heston (1959), Not Rated, 105 min
Heston is the captain of a salvage ship that is almost rammed by the apparently abandoned Mary Deare.  He boards the ship in search of plunder but as it is tossed on the high seas, he discovers a half-crazed captain aboard (Cooper).
July  4
No movie because of the holiday
July 11
Born Free 
Starring Bill Travers, Virginia McKenna (1966), Rated PG, 95 min
The heartwarming true story of a British couple who teach their pet lioness how to survive in the wilds of the African jungles.
July 18
The Thin Man 
Starring William Powell, Myrna Loy (1934), Not Rated, 91 min
Powell plays Nick Charles, a veteran detective and Loy his sophisticated wife.  A great combination of murder, mystery, and screwball comedy!
July 25
Back To Bataan 
Starring John Wayne, Anthony Quinn (1945), Not Rated, 95 min
The Philippines is liberated with the help of a colonel (John Wayne) who teaches the Filipinos to fight.
Aug 1
Bell, Book and Candle 
Starring James Stewart, Kim Novak (1958), Not Rated, 106 min
Novak plays Gillian Holroyd, a bonafide witch who falls in love with publisher Sheperd Henderson (Stewart).  She casts a spell on him, obliging him to dump his fiancée and rush to her side.
Aug 8
Cattle Drive 
Starring Joel McCrea, Dean Stockwell  (1951), Not Rated, 77 min
A spoiled son of a wealthy railroad owner manages to get himself lost.  He is found by a cowboy on a cattle drive and the lad must start learning the hard lessons of working in a team if he wants to make it to San Diego.
Aug 15
Brigadoon  
Starring Gene Kelly, Cyd Charisse  (1954), Rated G, 108 min
Gene Kelly stars as an American tourist who stumbles upon an enchanted Scottish village. Every 100 years, the people of Brigadoon awaken for a 24-hour period, then go back to sleep for another century while Brigadoon itself vanishes in the mists.
Aug 22
Letters to Juliet
Starring Amanda Seyfried, Vanessa Redgrave (2010), Rated PG, 105 min
In Verona, Italy – the city where Romeo and Juliet first met – there's a wall where the lovelorn leave notes, hoping that Juliet will answer their inquiries about love.  Sophie (Seyfried) is part of a team who responds to the letters, so she and the woman who wrote a letter from 1957 team together to seek out the "one who got away."
Aug 29
Remember The Titans
Starring Denzel Washington, Will Patton (2000), Rated PG, 108 min
High school football was everything to the people of Alexandria, Virginia in 1971.  But when the school board is forced to integrate an all-black school with an all-white school, the very foundation of football's tradition is put to the test.
Times
THIS EVENT HAS PASSED