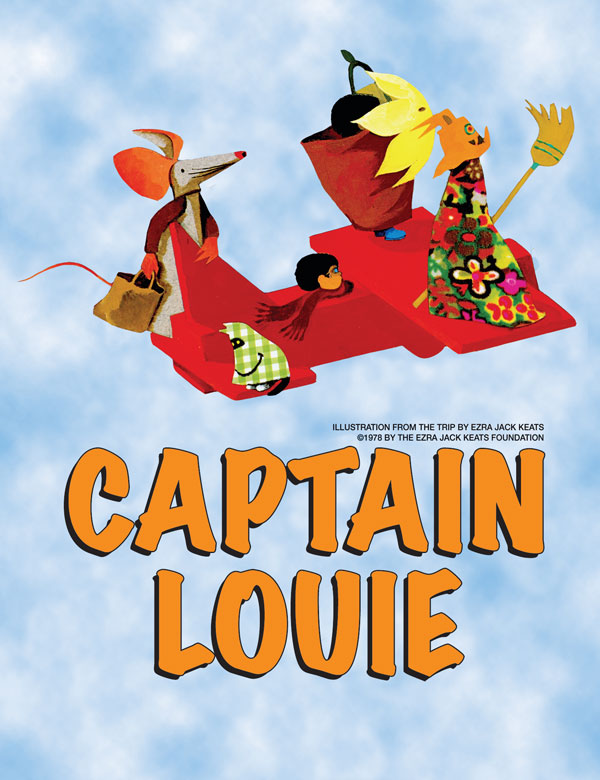 CAPTAIN LOUIE
A Theatre for Young Audiences musical
Description
MATINEE RESERVATIONS:  Click here for the online reservation request form for the 10:00am school matinees.  The form will be open to accept requests beginning Monday, September 11 @ 10am.  See the matinees tab at the bottom of this page for matinee policies and procedures. 
SCERA's Theatre for Young Audiences presents one-hour musicals and plays based on children's literature. The shows are performed by a cast of adult actors, and are the perfect way to introduce children to the magic of live theatre. And parents…with a witty script, charming characters and catchy music, you'll have a great time, too!
ABOUT THE SHOW: The new kid in town takes to the sky in this charming tale of imagination. Based on the children's book The Trip by Ezra Jack Keats, and featuring a musical score by Grammy Award-winning composer, Stephen Schwartz, Captain Louie is about friendships old and new.  Louie has just moved to a new town and is nervous to make friends. Alone in his room, he takes flight in his daydreams back to his old neighborhood, where he spends Halloween with his colorful crew of chums. Over the course of trick-or-treating and being introduced to the new kid in his old neighborhood, Louie discovers that making a fresh start is nothing to be afraid of. Directed by DeLayne Bluth Dayton.
CAPTAIN LOUIE is based on "The Trip" by Ezra Jack Keats.  Book by Anthony Stein. Music & Lyrics by Stephen Schwartz. Produced in New York at The Little Schubert Theatre by Meridee Stein, Kurt Peterson & Bob Reich, and Directed by Meridee Stein. Original New York production at the York Theatre Company (James Morgan, Producing Artistic Director) in association with Meridee Stein, Pam Koslow & Kurt Peterson. CAPTAIN LOUIE is presented through special arrangement with Music Theatre International (MTI).  All authorized performance materials also supplied by MTI. www.MTIShows.com. The videotaping or other video or audio recording of this production is strictly prohibited.
Times
THIS EVENT HAS PASSED