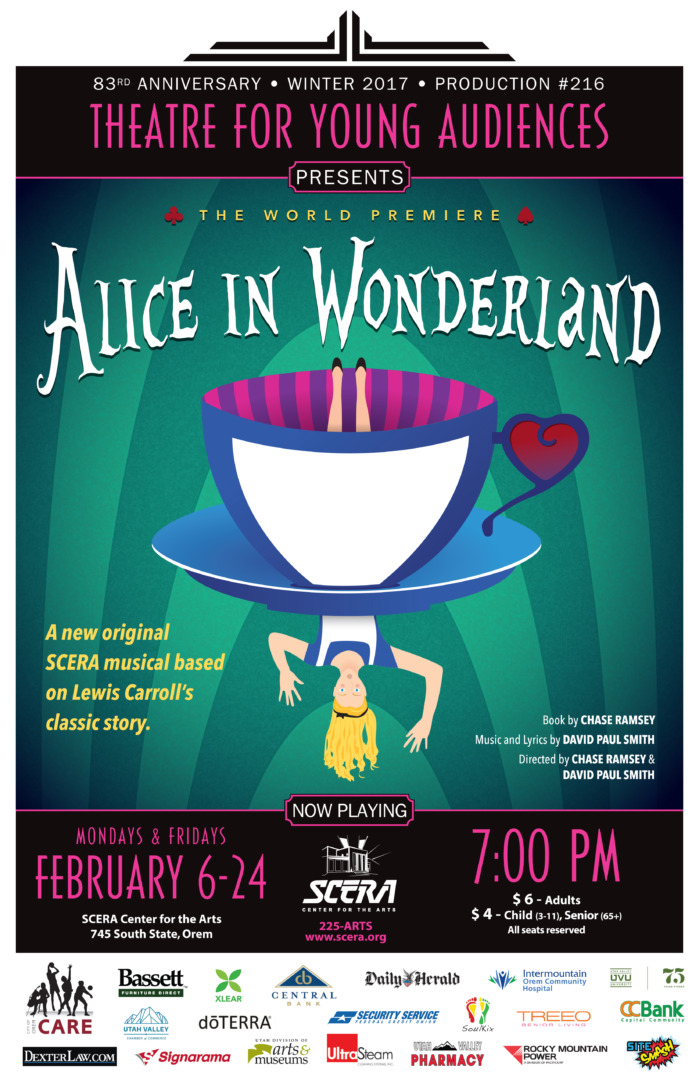 ALICE IN WONDERLAND
February 06 - February 24, 2017
A Theatre for Young Audiences musical
Ticket Purchasing Options
PHONE/IN PERSON:
801.225.ARTS
Open 10am-6pm weekdays & Saturdays from 12pm - 6pm.
Seating Map >>
Description
SCHOOL MATINEES ARE ALL SOLD OUT:  Click here for the online reservation request form for the 10:00am school matinees.

SCERA's Theatre for Young Audiences presents one-hour musicals and plays based on children's literature. The shows are performed by a cast of adult actors, and are the perfect way to introduce children to the magic of live theatre. And parents…with a witty script, charming characters and catchy music, you'll have a great time, too!
In this new original musical with book by Chase Ramsey and music by David Paul Smith, Alice is a disruptive student who gives her exasperated teachers all sorts of trouble. She thinks she knows it all and rules are not to be followed!  One day, Alice falls asleep and finds herself on an adventure through the dreamy but confusing world of Wonderland, where Alice's teachers become all of your favorite characters as she learns that life through the looking glass is full of nonsense and no fun at all!  Directed by Chase Ramsey & David Smith.

Times:
PUBLIC SHOWS: Mondays & Fridays @ 7:00pm
SCHOOL MATINEES: Monday-Friday @ 10:00am - RESERVATIONS REQUIRED - Groups of 20+ only (see below for approved groups)
School Matinees are SOLD OUT!!!!

Prices:
Adult - $6
Child (ages 3-11) - $4
Senior (ages 65+) - $4
GROUP RATES
SCHOOL MATINEES: $2.00/person for groups of 20+ - Reservations required - Public schools, official pre schools, charter and private schools, educational organizations and official home school networks (Alpine Online, WHEN, etc) welcome. Families and neighborhood groups should attend the evening public showings.
SCHOOL MATINEES ARE SOLD OUT!