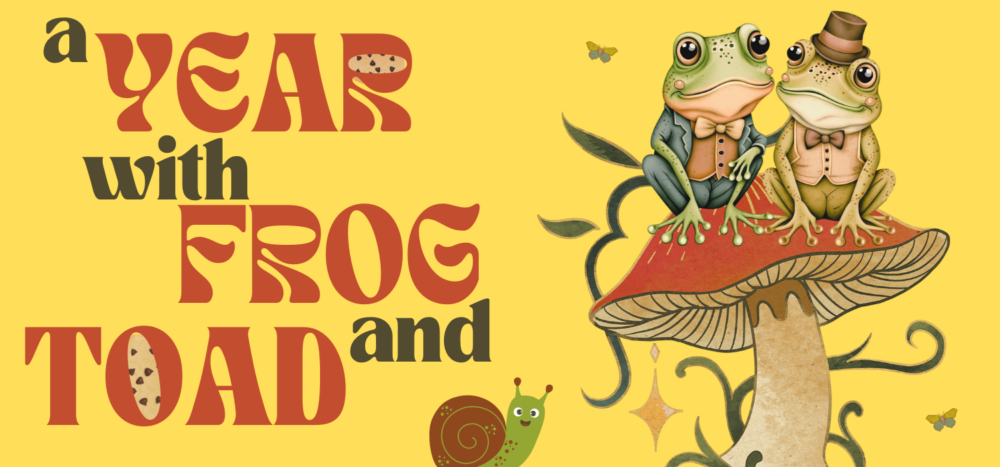 A YEAR WITH FROG AND TOAD
January 29 - February 16, 2024
A Theatre for Young Audiences one hour musical perfect for families with children!
Ticket Purchasing Options
PHONE/IN PERSON:
801.225.ARTS
Open 10am-6pm weekdays & Saturdays from 12pm - 6pm.
Seating Map >>
Description
ABOUT THE SHOW: A hit on Broadway, A Year with Frog and Toad was nominated for three Tony Awards – including Best Musical. Based on Arnold Lobel's well-loved books, and featuring a hummable score by Robert and Willie Reale, this charming show follows two best friends – cheerful Frog and grumpy Toad – through four fun-filled seasons, as the pair learn life lessons and celebrate in the differences that make them unique and special. Directed by Kelsey Mariner Thompson. Choreography by Rebecca Boberg.
SCERA's Theatre for Young Audiences presents one-hour musicals based on children's literature. The shows are performed by a cast of adult actors, and are the perfect way to introduce children to the magic of live theatre. And parents…with a witty script, charming characters and catchy music, you'll have a great time, too!
Times:
PUBLIC SHOWS: Mondays & Fridays @ 7:00pm

SCHOOL MATINEES: Monday-Friday @ 10:00am - Reservation details at the tab below

Prices:
DAYTIME SCHOOL MATINEES:  $3.00/person for ages 3 and older | Reservations required | Details at the tab below | Optional add-on treat for $1.00 includes small cup of popcorn and fruit juice box drink.
MONDAY & FRIDAY EVENING PUBLIC SHOWS: $8.00 Adult, $6.00 Child (age 3-11) / Senior (age 65+)